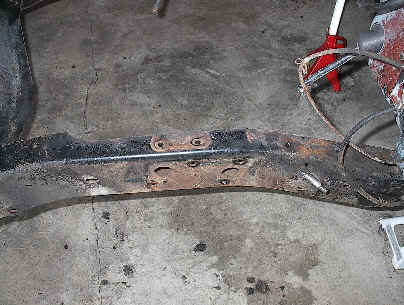 The next set of illustrations are some of the things that needed to be done to be able to convert our Panel's chassis to accept, the 396 engine, quick ratio power steering, front sway bar, and prepare the chassis for the 700R4 automatic transmission. Some of these steps will apply to all "1967" chassis, and the following steps are those.
The first thing we did is something that is specific to all 1967 chassis. This is to allow for the future installation of our 396. Using the top the frame rails from a 68-72 frame as templates, we cut the top of our rails to allow room for the exhaust manifolds, and also to allow us to mount the "72" big block motor towers. "72" BB towers are extremely hard to locate, but are well worth the effort for three reasons. One, ease of engine installation. Two, the motor mounts are inexpensive and readily available in any parts store, and three, they are stronger and more durable than the 68-71 style.
We also removed the clutch bell crank bracket, because we wont be needing it any more.
To convert a standard transmission chassis to auto, we needed to remove the cross member that supports the bell housing for the standard transmission.


POSTED BY: Wes">Wes
April 13, 2020
related posts