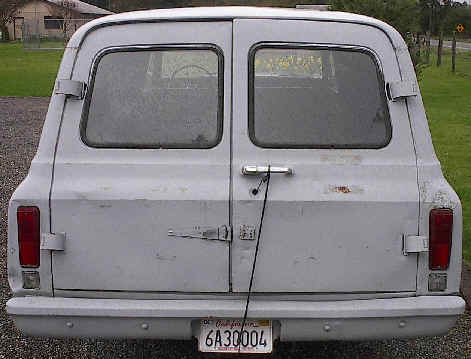 Another problem we ran into was the "Barn Doors" and rear quarters on the rear of our project. We can tell this truck received heavy use in it's former life and we will have to replace the doors, straiten the rear sill, fix the dents, and replace the lower R/H rear quarter where the former owner drilled a bunch of holes to attempt a repair and left them there.
Again being a Panel, the parts we needed were not being reproduced, so we had to count on donor parts. As you can see the results of our efforts were great. We still have some fine tuning to do here, but we will do that as this project progresses. Note As a result of our efforts, pushing to have these parts reproduced we will soon have Suburban/Panel rear quarters to add to our line of patch panels in the Products section of this website. Keep your eyes on our Message Boards for details!!
We disassembled the front end to start preparation on the front end modifications. For me this is always the hardest part to do for a project. It is always hard for us to see one of our trucks disassembled, but it will be sweet once we are done. Reassembly will include installing a 396 Big Block, 700 R4 transmission, "72" 5 lug front end, lowering spindles, lowering coils, quick ratio power steering, front sway bar, and all new ball joints, tie rods, steering linkages and one of our Cowl Hoods. (Those can be found in "Sheet Metal" in the "Products" section of this website. As you can see on the picture on the right, that we found a rust problem in the bottom of both inner fenders. These could easily fixed, however we opted to replace them with the new reproductions that we sell on this site. We chose to do that so we can check the fit and report any problems that we may find. Click Here to see those.
POSTED BY: Wes">Wes
April 10, 2020
related posts